An Open Financial System is the Future
Brian Armstrong and Patrick OShaughnessy explore what that world will look like.
Welcome to DEF Crypto. Get the insights of one podcast every day, without spending an hour and a half listening to it. We know you value your time & also want to keep up with everything happening. Our team also wants to introduce you to the amazing work from a wide-range of podcast producers every day. Our intent is to help our readers stay informed & help podcasts grow.

Which is why we are here to deliver def what you need to know.

**The information provided in this newsletter may not represent the views, thoughts, and opinions expressed by the individuals mentioned.
---
Show: Invest Like the Best, Episode 186 (listen HERE)
Guest: Brian Armstrong - CEO of Coinbase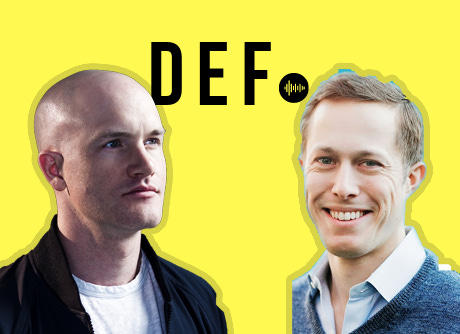 Show Summary
Brian and Patrick spend a good chunk of the episode discussing Brian's vision of the "traditional" or closed financial system versus the "open" financial system that bitcoin and cryptocurrency in general could potentially enable. Brian also reflects on his journey with Coinbase, from going through the Y Combinator incubator program, learning and improving through the growing pains of building a successful tech company, and where that journey has lead Coinbase today. They also cover: other cryptocurrencies on Coinbase and the value they can provide,  where Brian sees his company going in the future, and much more. 
Key Points
1.) Brian outlines a very striking contrast between his notion of the traditional financial system versus the open financial system - currently in the traditional system, payments and value transfer tend to work well only if it's in one country - as an example, Brian notes you can actually get on a plane and fly to Australia faster than you can send money there. Additionally, the fees that are imposed to these remittance transactions tend to be very inauspicious for individuals. Brian also sees the current financial system, as a very big barrier to innovation - whether it be banking solutions for new companies or the friction involved with getting payment solutions working for employees, vendors and customers. In the new world or open financial system, there is much less friction from a transactional (both globally and locally), real time settlement, and fee standpoint. Brian also champions the idea of economic freedom, which he views as a net benefit of a more open financial system. 
2.) It was very interesting to hear Brian talk about Coinbase's start as a company - Brian reflects on the inception of Coinbase, and emphasizes his gratitude to Y Combinator which seeded his project, and was also a vehicle for him to meet his cofounder Fred Ehrsam. At the time, Coinbase started simply as a hosted bitcoin wallet, not a platform to buy and sell bitcoin or other crypto currencies - after seeing the value proposition of allowing his users to buy and sell crypto currencies alongside Coinbase's custody solution, they implemented accordingly and the rest is history. One thing Brian emphasizes is the importance of people to his organization - hiring the best people to build the best products has been a founding principle for Coinbase, and a principle he is proud to have perpetuated throughout Coinbase's history. 
3.) Later in the episode, Patrick asks a very intelligent question about the other crypto currencies that you can buy and sell on Coinbase, and what value they provide to users that Bitcoin does not. This can certainly be a divisive topic amongst the crypto community (where my bitcoin bulls at?!) - Brian admitted his initial reluctance on listing other currencies on Coinbase as he appreciated the initial simplicity and focus on bitcoin, but conceded that as a company, it was important they provide what their customers wanted, and being more agnostic about the coins provided, letting customer needs loosely guide their altcoin listings. From a value proposition standpoint, Brian notes that bitcoin has solidified itself as the reserve currency in the crypto space, but altcoins can provide scalability solutions, usability solutions (for example, sending bitcoin to a more human readable address, as opposed to a string of random characters aka a machine readable bitcoin address) and security/privacy solutions. 
Straight from the Source
Brian Armstrong, drawing a parallel between the seamless and frictionless nature of global information transfer, versus the siloed nature of value transfer on a global scale:
It's almost like if every country had its own private internet, or something like that. And if I wanted to read a webpage in Brazil or send an email to Spain, I'd have to pay some kind of border tax to get my email into Spain. When you think about it from that point of view, it kind of doesn't make sense that every country in the world needs its own currency and its own financial system because it creates so much friction, when the economy is becoming more and more global.
---
Listen to the full episode here:
---
DEF gives you the knowledge from one podcast in a 5-minute newsletter format everyday. If you want the next one in your inbox, subscribe below:
DEF is free, but if you want to support us you can share this on Twitter! We appreciate it.