Crypto Through the Lens of a Central Banker
Ever wondered what central banks think about crypto? You don't have to wonder anymore...
Welcome to DEF Crypto. If this is your first time reading, hit this button:
What does cryptocurrency look like from the desk of a central banker? Today, we get some perspective from a former central banker turned bitcoiner. 
*The information provided in this newsletter may not fully represent the views, thoughts, and opinions expressed by the individuals mentioned.
---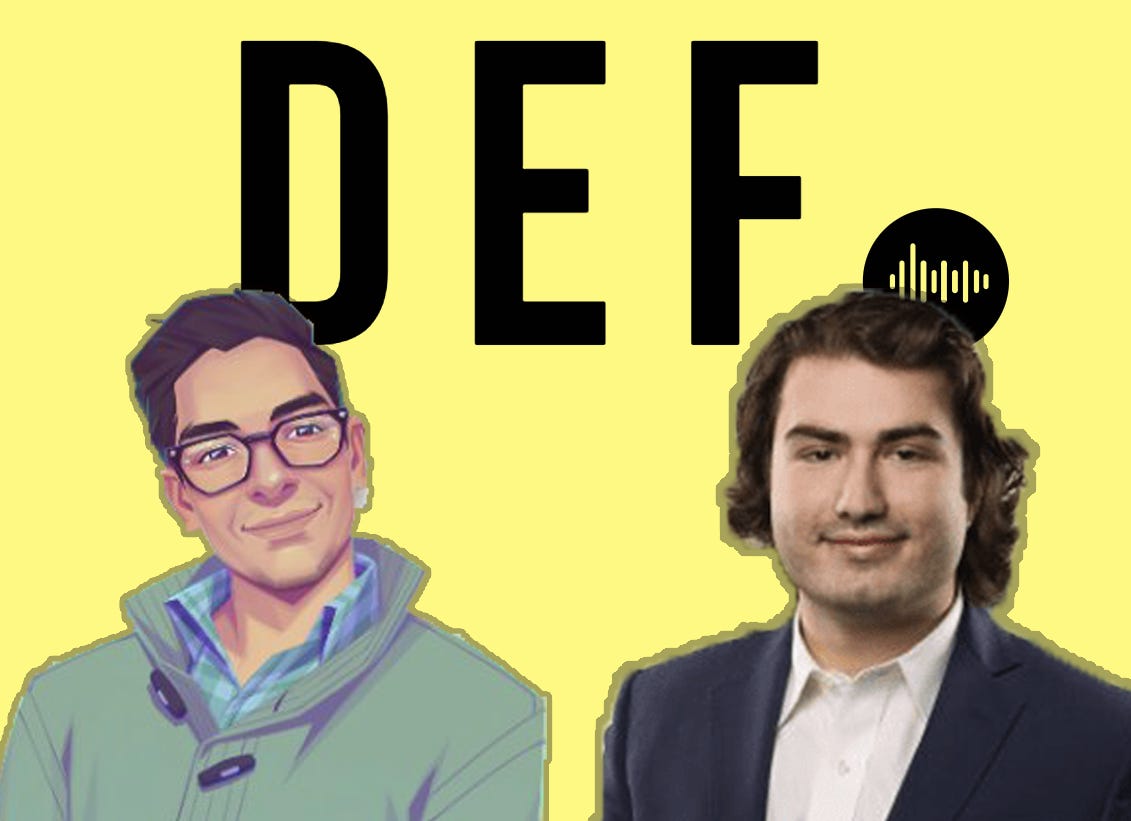 Show: On the Brink with Castle Island 
Host: Nic Carter
Guest: Mitchell Nicholson
Show Summary
Nic Carter is definitely one of the more intellectual minds in the crypto space, and he has a great conversation with Mitchell Nicholson, who is the founder of DACS Conduit, and formerly worked in the central banking space for the Bank of Canada (yes that's right, a young precocious central banker turned bitcoiner!!!!). DACS is building a platform that aims to mitigate credit risk & improve capital efficiency through central clearing in the crypto space. It was a very cool conversation, and is well worth a listen. But here at DEF, we know you're busy, and we're here to quickly help you pick out the important info from the show.

Here's what you def need to know.
---
Key Points
1) The Bank of Canada and central banks in general are, and have been for years, paying very close attention to bitcoin.
Presumably there will always be young "up and comers" within traditional establishments that are open minded to new technologies and bold concepts, but it's refreshing to hear Mitchell talk about his former central banking colleagues' interest in bitcoin and crypto currency. Mitchell noted that even some of the older and more senior staff would discuss and experiment with crypto, not because they were trying to make money, but because it intrigued them intellectually and they wanted to learn more about it. Interest in the space is not limited to the individual in this regard - from an organizational level, central banks have been studying bitcoin and "electronic money" initiatives to understand the implications of this revolutionary protocol. Frankly, this seems like it should be a pretty intuitive phenomenon - central banks and regulators should certainly by now understand bitcoin is here to stay and it would behoove them to try to learn about it, but that is not always how it plays out. 
2) Crypto truly is a new frontier for financial infrastructure, innovation and settlement.
Playing the valuable role of devil's advocate, Nic poses a question about how skeptics of crypto currency will sometimes say that participants in the space are just rebuilding legacy financial structures in a new domain, or relearning the history of finance but in an accelerated manner. Mitchell's response points to the inherent openness of crypto . In addition, Mitchell pushes back a bit on those notions in Nic's question by affirming crypto (from an infrastructure standpoint and in general) truly is a new frontier - traditional financial infrastructure settles on a daily basis, everything settles on the books of central banks and is overseen by regulators, and in crypto you have a playground of financial experiments, things are fundamentally open source, publicly accessible and transparent, and that is a key distinction in Mitchell's eyes. 
3.) Almost surprisingly, there are lessons and concepts you can take away from central banking and legacy institutions to improve and grow the crypto space. 
Mitchell talks about some of the lessons one can extrapolate from the legacy financial system and apply to the crypto space - observing from a systemic risk and financial stability lens, sometimes crypto gets ahead of itself with speculators and traders piling on a ton of leverage through derivatives on a highly volatile and not super liquid asset, things can blow up. We've seen it in the past, and I'm sure we may see it again - after all, speculation is a foundational network effect for this asset class. More generally, Mitchell concedes that infrastructure can improve - he thinks we've made a lot of progress in the last few years, but there are definitely still pain points when a network gets busy or it's hard to move money between exchanges when volatility is high. 
---
Straight from the Source
Mitchell Nicholson articulating why is so bullish on what's happening in crypto right now:
You heard it here first: the single biggest, most destructive technology that could come out of crypto is three parts: decentralized, privacy focused, and a stable coin (component)….that to me, is like the best form of cash. And it's not clear at all that any government institution would want to issue something that is as private as cash, but can be used digitally.
---
Listen to the full episode here:
---
DEF gives you the knowledge from one podcast in a 5-minute newsletter format everyday. If you want the next one in your inbox, subscribe below:
DEF is free, but if you want to support us you can share this on Twitter! We appreciate it.