Defi, Market Dynamics, and DEF What You Need to Know
Hasu and Su Zhu give a complete state of the market in their recent Uncommon Core episode that every investor should be aware of.
Welcome to DEF Crypto. Get the insights of one podcast every day, without spending an hour and a half listening to it. We know you value your time & also want to keep up with everything happening. Our team also wants to introduce you to the amazing work from a wide-range of podcast producers every day. Our intent is to help our readers stay informed & help podcasts grow.

Which is why we are here to deliver def what you need to know.
*The information provided in this newsletter may not fully represent the views, thoughts, and opinions expressed by the individuals mentioned.
---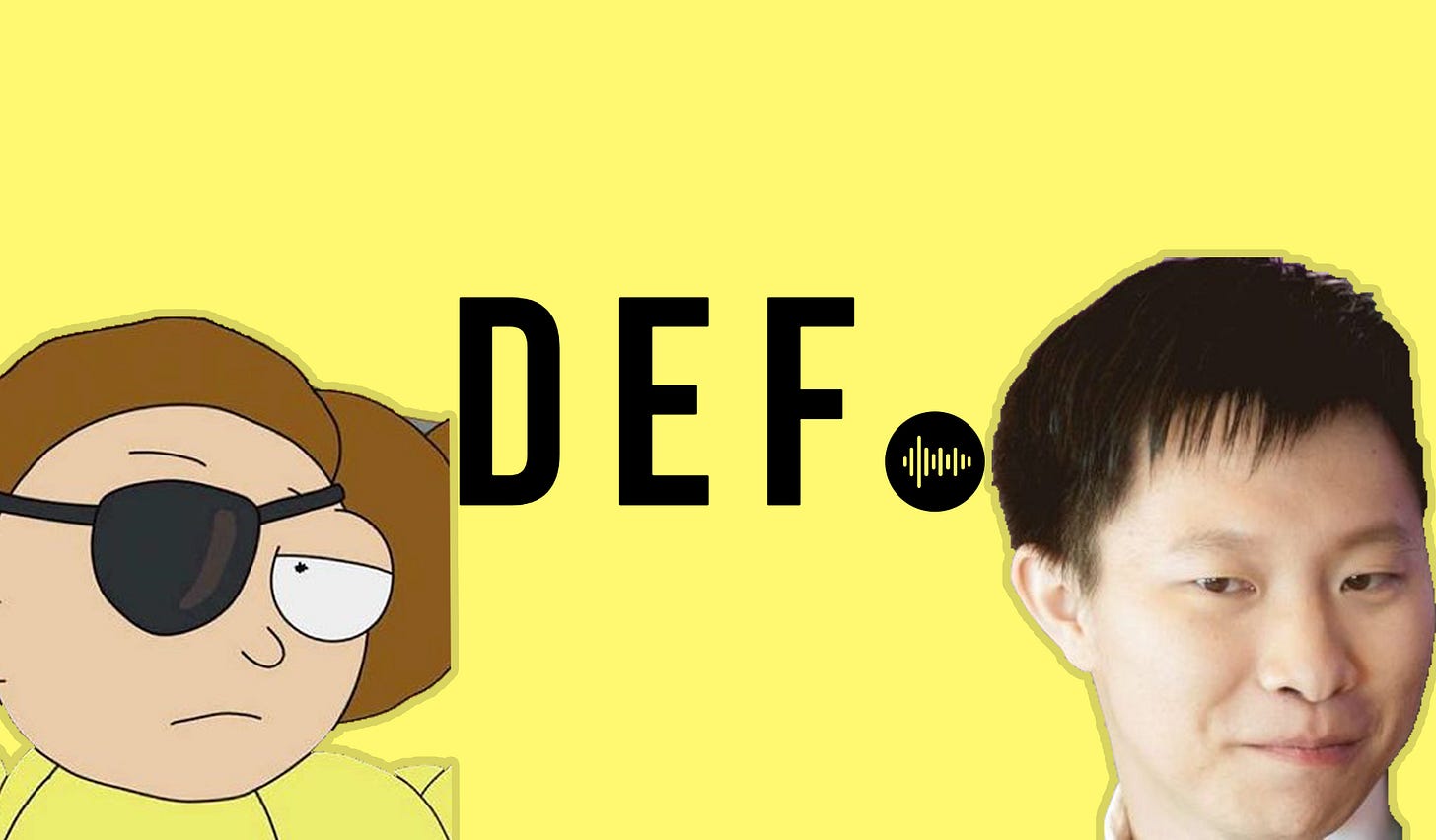 Show: Uncommon Core
Host: Hasu, a crypto researcher and writer
Co-Host: Su Zhu, CEO of Three Arrows Capital
Show Summary
Su and Hasu discuss in depth the current state of the market, specifically as it relates to Defi and the recent market Defi contraction, validity and relevance of the many Defi projects out there, dynamics of yield farming and what traders should be thinking about when employing this tactic, and much more. It was a fascinating and high level discussion, and well worth a listen - here is def what you need to know about the episode. 
---
Key Points
1.) Early in the episode, Su Zhu made some very insightful points about the current state of Defi and why things have played out the way they have. Generally, with any significant explosion of interest and community (this is not specific to Defi, could apply to any nascent asset or type of asset), there will subsequently be significant pull backs in value.

When you have some of these Defi projects doing 10 or 20x, it is a natural phenomenon for that hype and capital to eventually pull back after the hype period - for some types of assets this cycle lasts longer, some shorter. Su went on to talk about some of the warning signs of this pull back, including the proliferation of "copy cat" projects and forks that followed the initial wave of the first Defi projects, which he astutely points out is symptomatic of  investors/projects chasing "novelty" as opposed to the genuine innovation that began the cycle.
2.) One thing Su is skeptical of: governance maximized nature of some of the Defi projects that are in the market. Hasu agrees that Defi should be governance minimized, not maximized, when it comes to things like vesting, new token voting, etc. In terms of concepts that have been solidified and validated, Su notes that AMMs (automated market makers) as a concept has certainly been proven as valuable and innovative moving forward.
3.) Hasu poses a question about market makers on Uniswap: on centralized order book exchanges, market makers tend to increase their spreads when volatility is high. Currently, AMMs don't tend to do this as much, even though they have the ability to do so…

Hasu's question: Should AMMs be actively managing inventory (by modifying spreads) based on expected volatility?

Su's short answer is yes with the distinction - if you are a market maker that needs to make money on trades, then yes, you should be doing this. If you don't need to make money on trades, it doesn't matter as much. As an example, people that LP on Uniswap don't need to make money, they may prefer to, but they don't need to - for a holder of an AMM LP token pair on Uniswap, that individual needs to believe that in the long run, this mechanism will out perform buying and holding the two tokens, and is less concerned with making money on the trading mechanism. 
---
Straight from the Source
Su Zhu, commentating on why sometimes things shouldn't work in theory, but why in practice (related to Defi), they seem to be working now, specifically related to our Key Point 3. 
"Like a guy who puts his money in the AMM pool, he may have (otherwise) been doing something dumber with his money, he may have been trying to buy and sell levels, he may have been getting liquidated on Bitmex, you have no idea what he was doing. There is no perfect solution, not everyone can arb everything all the time, some people have to just own things, some people just have to try to compete, not really with the market, but with themselves, and just try to make a little bit more money every year. In that framework, you quickly see why spreads aren't going widen for pronouncements, probably the simplest solutions will do OK, but there is definitely a lot of room for AMM innovation too."
---
Listen to the full episode here:
---
DEF gives you the knowledge from one podcast in a 5-minute newsletter format everyday. If you want the next one in your inbox, subscribe below:
DEF is free, but if you want to support us you can share this on Twitter! We appreciate it.