Defining Bitcoin to Gain Conviction in Your Investment
Peter McCormack speaks with 3 of the best Bitcoin thinkers to define it.
Welcome to DEF Crypto. If this is your first time reading, hit this button:

Being able to define Bitcoin & understand in 1-2 sentences why it's such an incredible investment opportunity is what leads to conviction in the position. This update should help out with that.
*The information provided in this newsletter may not fully represent the views, thoughts, and opinions expressed by the individuals mentioned.
---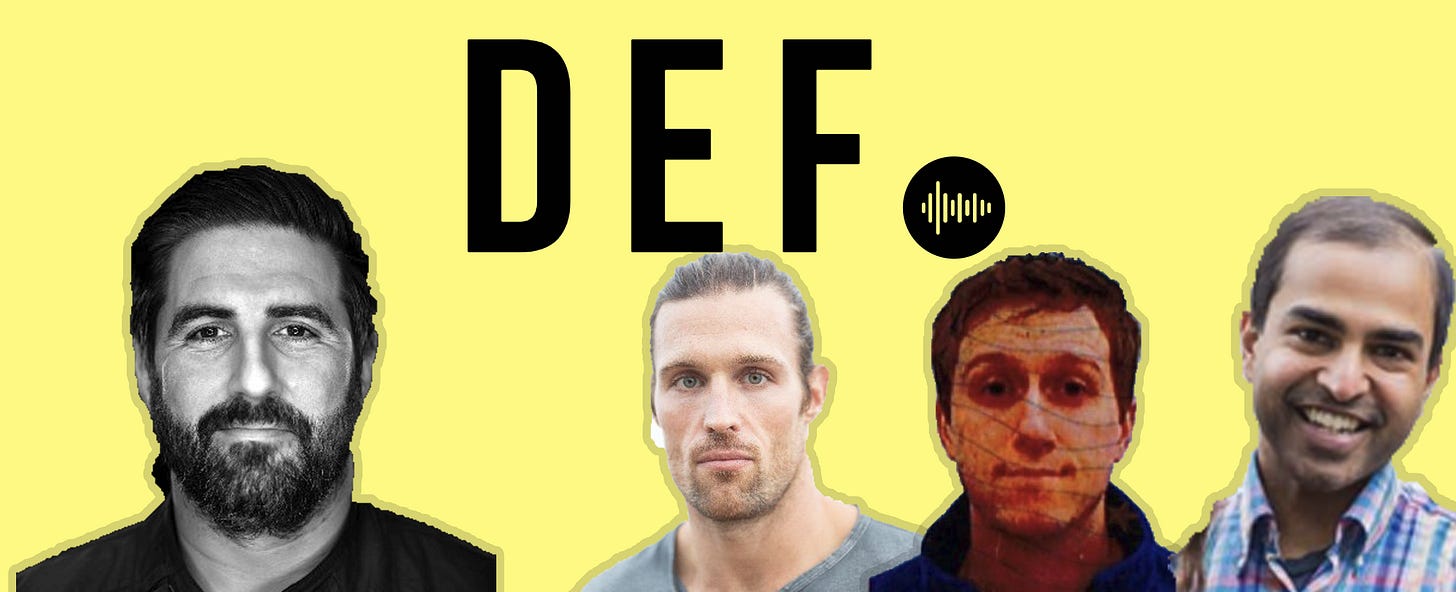 Show: What Bitcoin Did
Host: Peter McCormack, Bitcoiner and host of the largest Bitcoin only podcast
Guest: Parker Lewis
Guest: Robert Breedlove
Guest: Vijay Boyapati
Show Summary
This episode is an absolute banger if you like thinking deeply about Bitcoin & learning about new mental models for its inevitable growth. Peter McCormack does a great job proposing ideas, scenarios, and variables to the panel. Each of the guests gives a masterclass on Bitcoin & we think you should listen to this full show.

Here's what you def need to know.
---
Key Points
The question that kicks off the show, "What is Bitcoin?" leads to a much deeper dive but for those that want a quick synopsis…
1.) Vijay - Bitcoin is gold with teleportation built in. He elaborates by saying that this isn't a perfect explanation but it covers the fundamental core of why Bitcoin is valuable: a scarce digital asset.
2.) Parker - Bitcoin is money. Period. He goes on to say that although it doesn't operate like most people are used to using as their current form of money but based on what it will be, it will grow into what people are used to now.
3.) Robert - It is an insurance policy on the legacy financial system. He adds an extra line saying "the more dollars they print, the more valuable that policy becomes." To justify this definition he references how many fiat currencies have ended in hyperinflation or default.
---
Straight from the Source
One quote that sticks with us from this episode is reminiscent of the speech Gordan Gekko gave in the iconic Wall Street movie. This is powerful. Robert was talking about how Bitcoin will evolve & the road to hyper-bitcoinization when this quote came out. It perfectly describes how individual greed creates something much greater for all of us:
Greed is what actually drives Bitcoin's market value. There's a huge incentive to hold it and hoard it. And it also secures its network. Bitcoin mining is a purely capitalistic activity. Where the race for profit margins actually creates a larger & more robust/antifragile network. So in that sort of religious sense…I look at Bitcoin as this system that converts the individual sin of greed into our collective salvation.
---
Listen to the full episode here:
---
DEF gives you the knowledge from one podcast in a 5-minute newsletter format everyday. If you want the next one in your inbox, subscribe below:
DEF is free, but if you want to support us you can share this on Twitter! We appreciate it.