How Will Defi Scale?
Decentralized finance needs to find a way to scale, and this is how...
Welcome to DEF Crypto. If this is your first time reading, hit this button:
Jason Choi, host of Blockcrunch, hosts a discussion between two decentralized exchange founders with the main focus on how Defi will scale. This is massively important because it will decide how this theme can continue to grow in the long run & also which projects will reap the rewards of that growth.
*The information provided in this newsletter may not fully represent the views, thoughts, and opinions expressed by the individuals mentioned.
---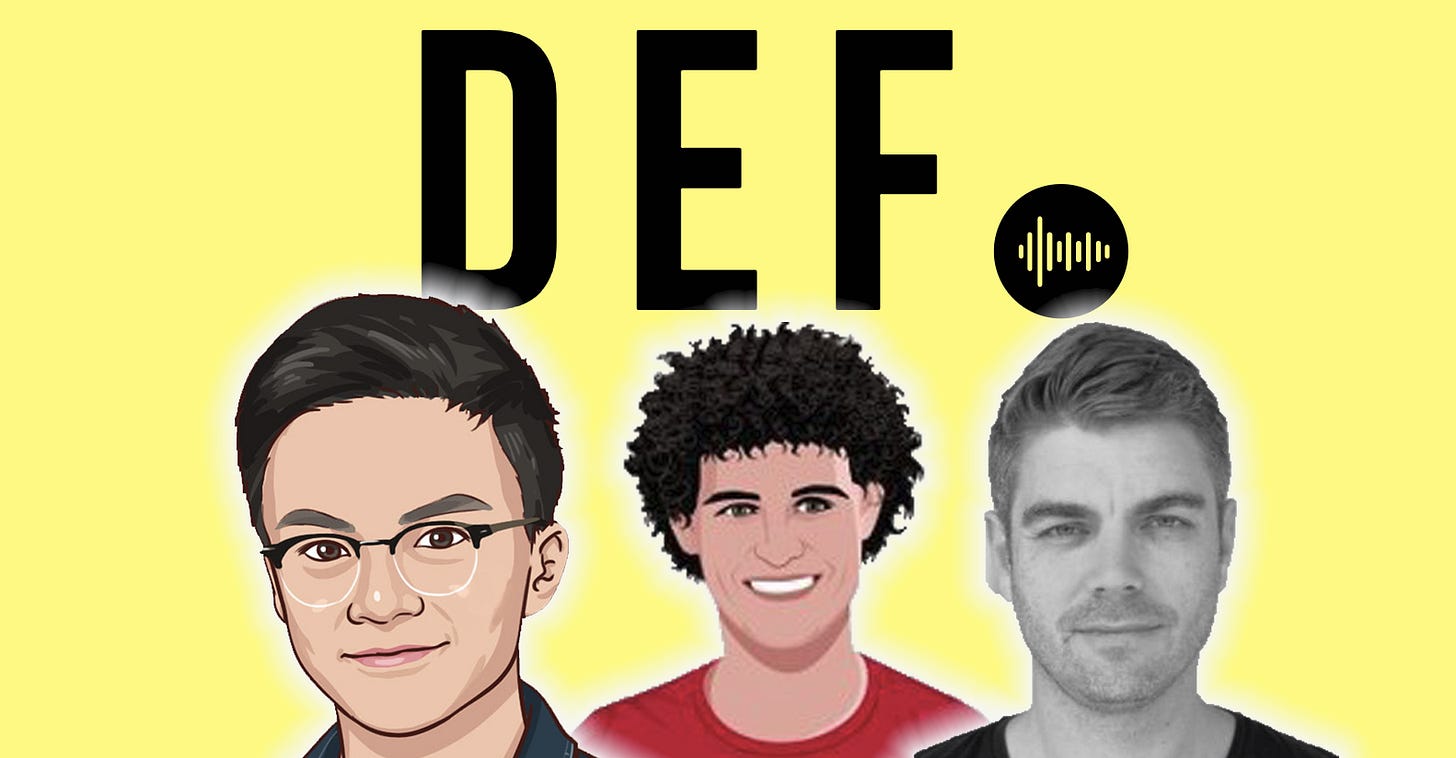 Show: Blockcrunch: Global Crypto Investors
Host: Jason Choi
Guest: Sam Bankman-Fried
Guest: Kain Warwick
Show Summary
Decentralized exchanges are a major component to decentralized finance as they allow everyone in the world to interact with digital assets in a trustless way. But in order for the Defi system to reach it's lofty goals, we need to find a way to scale. During the recent decentralized finance boom in 2020, two things held momentum back: high fees and slow speed of using projects built on Ethereum.

This episode dives into the question of "Will Defi Scale on Layer 1 or Layer 2?"

Both guests are building a decentralized exchange with different approaches to that question. Jason does an excellent job driving the discussion between these founders & we highly recommend listening to the episode if you spend time investing in Defi projects.

Here's what you def need to know.
---
Key Points
1) The "Layer 1" framework for scaling: if all other chains went away, this solution does not need to rely on those other chains.
Sam starts off the discussion by explaining why he is focusing on the layer 1 approach with his decentralized exchange (Serum) being built on an entirely new chain called Solana. The basic idea is working on a new optimized for speed from the beginning would be better than trying to patch the current system.

Important to note that he does not view this as a Layer 1 vs Layer 2 game…meaning they can both work together simultaneously to the benefit of traders.
2) The "Layer 2" framework for scaling: focus on composing solutions for Ethereum ecosystem to avoid risks of a new untested chain.
Nearly all of the liquidity, users, developer community, and action of Defi is taking place on Ethereum. The composability of ETH and being able to utilize technology like optimistic rollups to improve the current system helps avoid the risky trade-offs of choosing an unproven new layer 1 chain.
3.) The two founders working on different solutions agree on tons of points, and the question of which approach wins really comes down to trade-offs.
One of the surprising aspects of this episode was how much Kain & Sam were in agreement on scaling issues. Even though each founder is building in an entirely different way, they both realize that it's impossible to predict which scenario wins out.

Neither solutions is perfect. There are advantages to each. Regardless of the path you think is best - it's exciting to have these two building a system that allows anyone in the world to access financial applications.
---
Straight from the Source
Sam Bankman-Fried when talking about thinking about the future versus building for right now:
"When you project yourself 15 years into the future…into a future where alot of the expected value and upside lies… you are projecting an extremely large explosion in usage. And when you start to think about: how big can Defi get? Even things that seem not that taxing right now, all of the sudden you project that to explosive defi ecosystem in the future - what was tenable right now becomes quickly untenable."
---
Listen to the full episode here:
---
DEF gives you the knowledge from one podcast in a 5-minute newsletter format everyday. If you enjoyed this write-up and want to receive the next post, subscribe here:
DEF is free, but if you want to support us you can share this on Twitter! We appreciate it.