Insight From an Algorithmic Crypto Trader
Learn about the approach, rules, and strategy from one of the most followed algorithmic crypto traders navigating the current market.
Welcome to DEF Crypto. Get the insights of one podcast every day, without spending an hour and a half listening to it. We know you value your time & also want to keep up with everything happening. Our team also wants to introduce you to the amazing work from a wide-range of podcast producers every day. Our intent is to help our readers stay informed & help podcasts grow.

Which is why we are here to deliver def what you need to know.

**The information provided in this newsletter may not represent the views, thoughts, and opinions expressed by the individuals mentioned.
---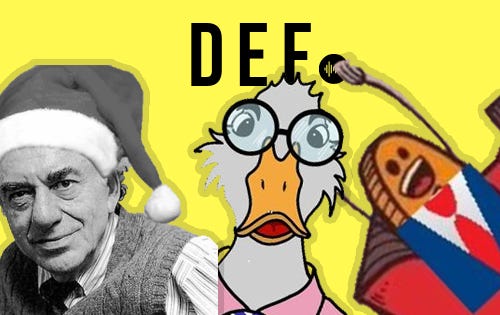 Show: Technical Roundup (watch full show HERE)
Guest: CryptoGainz - Algorithmic Trader
Show Summary
Technical Roundup is a weekly show hosted by two technical traders that have gained a serious following on Twitter because of their consistently prudent approach to the crypto market: Cred & Donalt. Their guest, Gainzy, is an algorithmic trader that has published countless strategies which have verifiably been profitable over a long period of time. In this episode, the 3 explore how Gainzy approaches the market, which rules he follows, what market conditions he thinks are most profitable, and how you can apply those rules to improve your own investment performance.
Key Points
1.) One concept that is covered over-and-over again in this episode: how important it is to be able to identify what market conditions are most profitable to trade in. Gainzy personally finds it much more attractive to be active in a trending market.

The factors that contribute to this opinion: retail dominated market, better liquidity in a bull-trend, more consistent patterns in an uptrend, and trading is easier when the pie is growing.

During a sideways or bearish market, the money is sloshing around between different crypto assets. Your timing has to be better. Execution has to be better. Fees account for larger percentage of your trade. The impulse moves are smaller. These are characteristics that most investors can recognize but few are honest in following a rule to reduce risk during these times.
2.) One benefit to so much discourse taking place on Twitter between investors, fund managers, analysts, and traders is how much valuable information is given away for free. Gainzy highlights how you can effectively use investors with a proven track-record as confluence for your own investment decisions. He clarifies what he means by citing specific accounts that have been sharp in publicly calling for over-reactions in the market. Important to point out that the names he mentioned are not a random kid trading in his basement…but rather some of the most respected investors in the asset class that are not shy about announcing their bets. Obviously you still need to do the work yourself but it's not often talked about how helpful tailing large public fund-managers can be.
3.) The 3 traders all agree that an investment strategy can benefit from being dynamic with your position sizing based upon how attractive the market is at a given time. This is similar to the first point with more emphasis on finding a specific theme, anomaly, or setup that allows you to bet bigger than your normal position sizing. This goes against traditional schools of thought that you might read about investing but their explanation for why is rooted in evidence. Suggest listening to the full show if that sounds interesting to you.
Straight from the Source
Gainzy when explaining why waiting for your perfect market conditions is potentially more important than anything else when describing how the market shifted in September:
I don't like trading markets where money rotates. I like trading markets where the market grows. And all I'm seeing right now is market rotation and dumb money losing it to scams.
---
Watch the full episode here:
---
DEF gives you the knowledge from one podcast in a 5-minute newsletter format everyday. If you want the next one in your inbox, subscribe below:
DEF is free, but if you want to support us you can share this on Twitter! We appreciate it.