Naval's Crypto Strategy
This is what one of the most successful angel investors in the world thinks about crypto...
Welcome to DEF Crypto. If this is your first time reading, hit this button:
Naval Ravikant is the founder of AngelList & has a ridiculously good track record of spotting good investments early including Twitter, Uber, Postmates, and Wish. He rarely does podcast appears on podcasts anymore so it's a treat whenever he drops knowledge about how he views investing (and crypto).
*The information provided in this newsletter may not fully represent the views, thoughts, and opinions expressed by the individuals mentioned.
---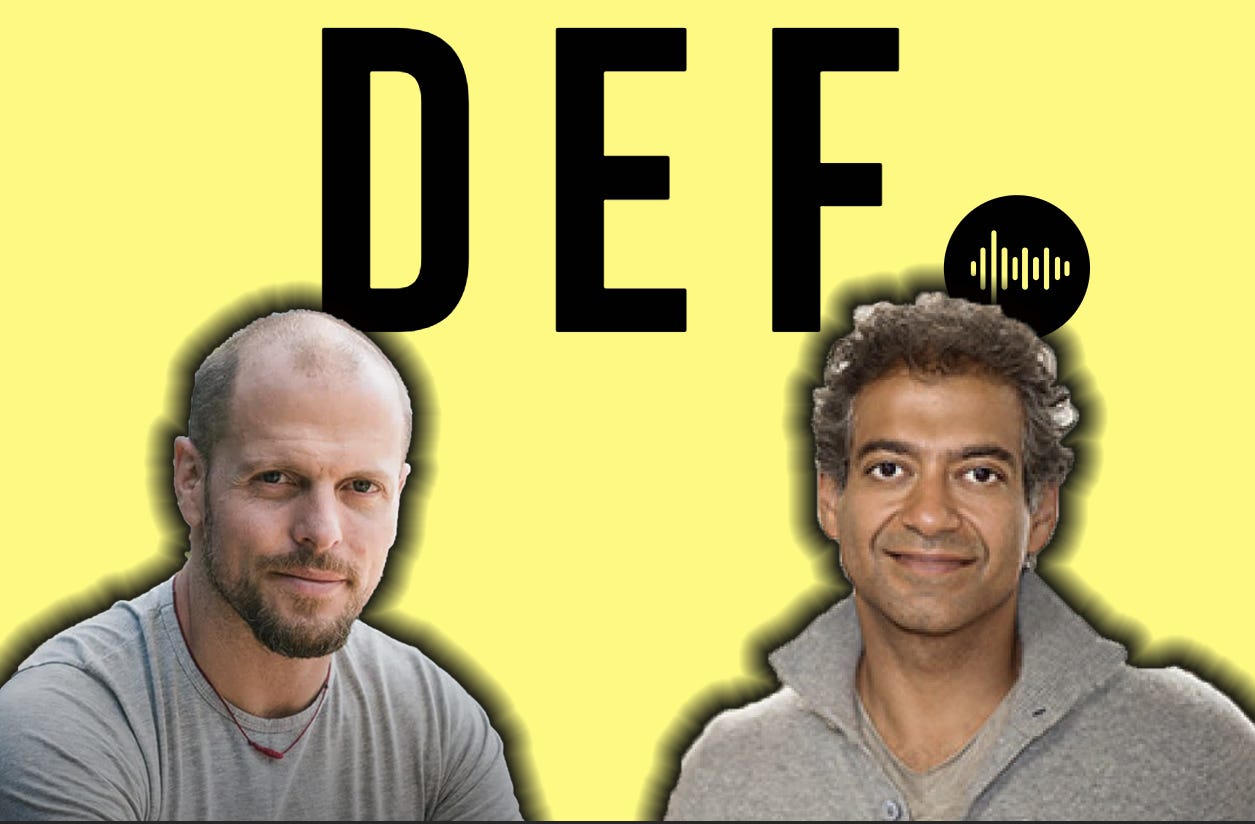 Show: The Tim Ferriss Show
Host: Tim Ferriss
Guest: Naval Ravikant
Show Summary
Tim Ferriss is an OG in the world of podcasting & his has been ranked #1 in the business category often. This specific episode with Naval covers a wide range of topics including happiness, reducing anxiety, crypto stablecoins, and crypto strategy. We highly recommend listening to the full show which will undoubtedly provide you tons of value but if you just want to hear what one of the best investors in the world thinks about crypto…

Here's what you def need to know.
---
Key Points
1) There is no free lunch. Risks always exist. Stablecoin systems are no different and three distinct risks exist: fraud risk, censorship risk, and blowup risk.
This portion of the show is a very honest and objective analysis of the risks you have to accept when using stablecoins. Sure they allow you to mimic keeping value stable while you hold the asset but you are still exposed to risks that every investor needs to be aware of. Often times you forget about these risks becuase you might not personally affected (yet) but it's a consideration regardless of the stablecoin type you are using. Tether, USDC, Ampleforth, Maker, and others all offer a slightly different trade-off.
2) DEFI is replacing Wall Street as the best casino in the world.
With traditional finance there are gatekeepers and all types of barriers that benefit the players that have built that industry. With decentralized finance being open 24/7 365 days a year, you now have a permissionless system that lets anyone make bets, hedge value, transfer, peg assets and trade. This part of the discussion was wildly interesting because DeFi, a system that seemed niche & used by only a small portion of crypto investors, is now becoming well known among the best/largest investors in the world. This theme has stuck far better than other investment themes that emerged from crypto in the past. It's not going away.
3.) Based on the way the macro picture is developing, crypto (Bitcoin) presents a solution for investors that are worried about inflation, black swans, and recklessness from governments around the world.
Tim & Naval dive deep into why people are searching hard assets by breaking down step-by-step the broader macro developements happening in the world today. Investors have a few options like Gold or Real Estate when they start looking at hard assets to store value in. But the beauty of Bitcoin is it's natively digitial which allows you to do things that no other asset in the world can with such ease.
---
Straight from the Source
Naval Ravikant explaining why crypto assets are the most interesting asset class to be focused on:
"I think cryptocurrencies are probably one of the greatest inventions in human history and the reason why they're interesting is because if you look to the technology industry, technology plays in unregulated spaces. It's very hard for technology to change regulated spaces, as Uber and Postmates and companies like that find out. But generally the reason technology works is because it creates its own frontier. It is a digital frontier that is being created, now that the physical frontiers are all closed and the new world has been colonized and the wild west has been tamed….And so cryptocurrencies are how we get around that, and so they're sovereign resistant, they're designed to be completely decentralized, you don't need the violent power of the state to enforce the value of cryptocurrency. And it allows for truly trustless transactions between humans without some king or authority or government or corporation having to be in the middle. And so it's very liberating to disconnect wealth creation, wealth storage, and wealth protection from the state. And that's what cryptocurrencies really enable."
---
Listen to the full episode here:
---
DEF gives you the knowledge from one podcast in a 5-minute newsletter format everyday. If you enjoyed this write-up and want to receive the next post, subscribe here:
DEF is free, but if you want to support us you can share this on Twitter! We appreciate it.